I meet Dimitris before dawn at Kasteli harbor in Kissamos in the region of Hania. This is the same harbor from where, a few hours later, dozens of boats will set off on excursions to Balos, but at 6 a.m. it's still dark and quiet. His boat slides through the tranquil waters along the length of the Gramvousa promontory and Dimitris' youthful yet experienced eye spies a turtle swimming just a few meters away.
His father, who is steering the boat, is reciting a list of Turkish names for the different locations along the rocky coastline, which is just starting to become visible as the sun rises. Dimitris tells me about his grandfather and his 13 brothers and how they, too, made a living from the sea.
I follow Dimitris' quick and well-calculated movements across the rocks of Gramvousa promontory as he checks their natural basins for sea salt.

About an hour later, we come to a small islet just off the tip of the promontory. His grandfather, he says, would spend the entire summer in a cave here, collecting salt from the rocks. As we continue chatting, Dimitris prepares his bucket and his big plastic spoon. The boat pulls up and he jumps lithely onto the shore. I follow his quick and well-calculated movements across the rocks as he checks their natural basins for salt. Some of them have collected enough salt in the wake of the waves to harvest. In others, the water hasn't fully evaporated yet. All of them, however, are surrounded by sharp rocks, which Dimitris navigates with impressive agility.
Strength and a natural grace allow him to perform this bizarre dance under the hot sun for several hours on end. The boat then takes us to two more craggy locations near the sandy islet of Balos. Dimitris, as always, is ready with his bucket and spoon. And while he may have the strength and the courage to scramble up steep rocks several dozen meters high, he's also very aware of the fact that he will only fill his sack if the sea and the weather allow it.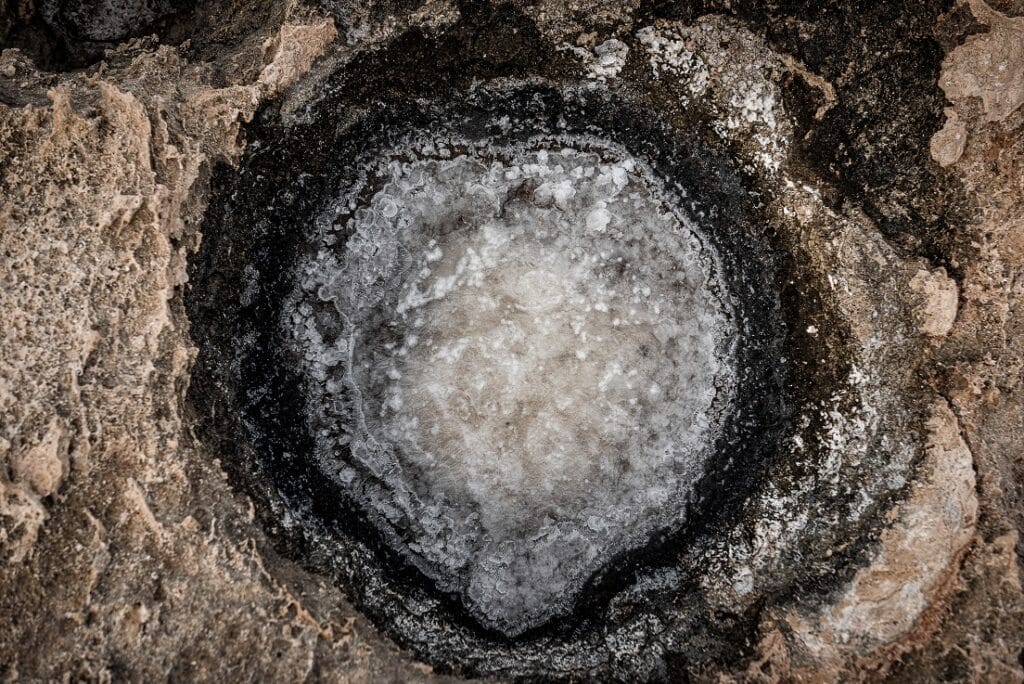 Photos courtesy of Giorgos Anastasakis / © Region of Crete
A five-course podcast on the essence of Greek food
If you could somehow fit Greece on your dinner table, you'd would find yourself dining among olive groves and vineyards. And if you took a careful look among the trees and bushes, you'd probably spot beehives, wild greens, and little garden plots where vegetables and legumes flourish under the Mediterranean sun. Join Isabella for a conceptual five-course dinner and explore the culinary culture behind Greek wine, extra virgin olive oil, honey and a rhyming dessert.
This is a story about a bar of soap that contains three intertwined tales of sustainability from the island of Crete. It begins with Manos and Stelios, who make organic soap by hand using olive oil from Manos' grove in Knossos. Then there's Giorgos, a winemaker who knows all about indigenous grape varieties and shares some of his red Kotsifali wine. To give the soap story an unexpected twist, Giorgis, a potter in Margarites, adds some of the red clay he collects from Mount Psiloritis to the mix. The result is a fragrant slice of Crete you can hold in the palm of your hand.